INSTITUT INTERNATIONAL LANGUES & AFFAIRES
Group training in French as a foreign language
Classes in small groups to encourage discussion!
Special courses for expatriates, students or au pairs
Because you, too, want to learn French to better understand and embrace French culture.
Our school offers group courses in French as a foreign language to help students better integrate into the French language and culture, and study in France. We offer a group formula divided into groups of different levels, so that each student can progress at his or her own pace. Group courses take place two full mornings a week, either on Mondays and Tuesdays, or Thursdays and Fridays, from 9:30 am to 12:30 pm.
In addition to group lessons, we also offer 4 hours of independent work, so that students can put into practice what they have learned in class. Students can do online homework and exercises, writing or listening projects, videos, etc. to improve their understanding and use of the French language.
Our aim is to provide our students with the tools and skills they need to master the French language and better integrate into French society. We believe that our group and independent courses will help students achieve their goals in an effective and enjoyable way.
This French as a Foreign Language course is also aimed at expatriates and au pair students who wish to improve their knowledge of the French language and better integrate into French society.
We understand that for expatriates and au pairs, adapting to a new country and culture can be difficult. That's why we offer a welcoming and stimulating learning environment to help them feel at ease and make rapid progress.
Our group courses enable students to connect with others who share the same interests and goals, while independent study hours allow students to put into practice the skills they've learned in group classes.
By choosing this French course, you'll benefit from quality teaching and an enriching learning experience that will help you achieve your linguistic and cultural goals.
1800€/year 660€/quarter
CPF and Pôle Emploi eligible,
Companies
A passport to study in France?
to prepare for your studies in France or at your university
To enter a university or higher education establishment in France, it is often necessary to have a B1 or even B2 level in French. This level is generally required to follow courses and understand information provided in French. It's important to note that French language requirements may vary depending on the university or college you choose.
Our weekly group French course is designed to help students reach this level, helping them develop their listening, speaking and writing skills, as well as their knowledge of French culture. We believe that by following our course, students will be well prepared to succeed in their university or higher education studies in France.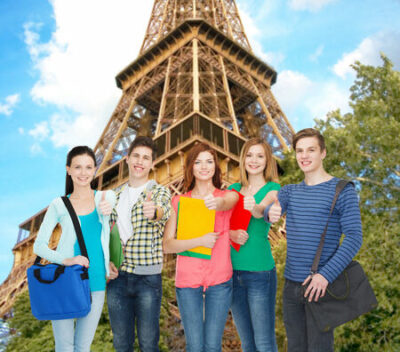 Financement
Compte formation CPF, pole emploi, salariés ou professions libérales, il y a surement un financement prévu pour vous !
Cours individuels
Un cours sur mesure et seulement pour vous !
Cours en ligne
Pas de temps ? trop loin ? Difficile à combiner dans votre planning ? Optez pour un cours en visio conférence !
Certifications
Préparez sereinement avec nous votre TCF ou votre DELF ou tout type d'examens car nous serons là à 100% à vos cotés !
Cours collectif
Apprendre ensemble, partager, communiquer et se motiver !
Welcome to our institute! If you're looking for a place to develop your language skills, you've come to the right place. We are a team of passionate teachers who focus on quality and enjoyment of learning. We know that learning a new language can be daunting, especially for foreign students. That's why we use fun methods to help you feel at ease and make rapid progress.
Over the years, we've trained thousands of students with the highest satisfaction rates. We're proud to say that our teaching methods have helped our students achieve their language goals and succeed with flying colors. We're with you every step of the way to support and motivate you.
Our team is here to provide you with a quality learning experience, whether you choose to take our face-to-face or distance learning courses. We're determined to help you speak the language with confidence and prepare you for success in your personal and professional life.
So don't wait any longer! Join us today and find out how we can help you achieve your language goals. We look forward to welcoming you!